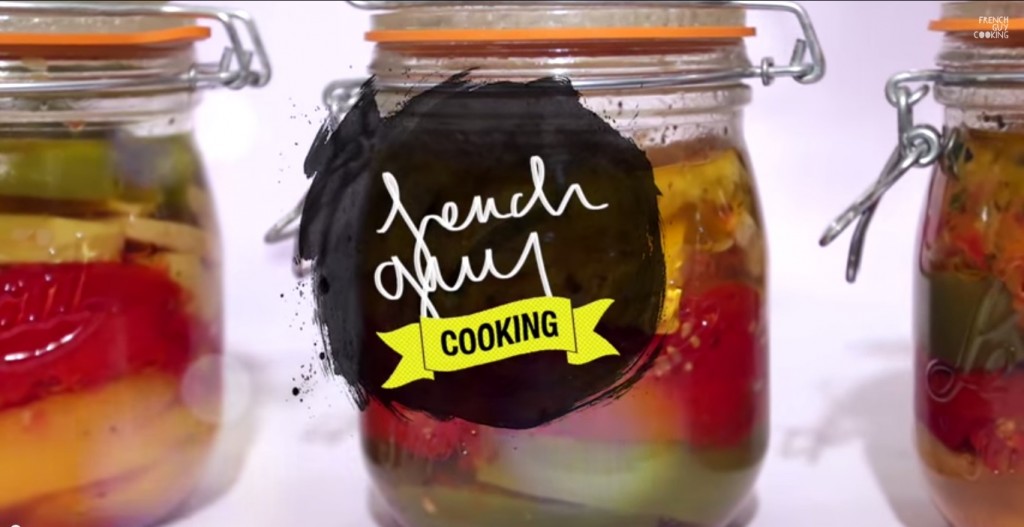 It's the end of summer, the best season for eating fresh fruits and vegetables: wouldn't it be wonderful if we could eat gorgeously ripe tomatoes, peppers, courgettes and eggplants all year long? Yes, you can find them in your supermarkets 365/365 but they're not seasonal ergo not properly good for you nor the environment (or your pockets for that matter). So why don't you preserve them? Once you follow my 11 easy steps it's nothing to be scared of: all you need are perfectly clean jug, new plastic lids and a proper sterilization. You will be able to eat this delicious rainbow ratatouille all year long, safely!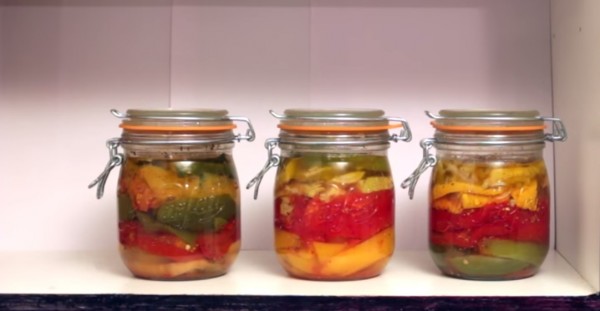 3 Jars
Ingredients
3 zucchini (green, yellow, white)
3 tomatoes (red and yellow)
3 bell peppers (red, yellow and green)
Salt, pepper, dried herbs, 2 cloves of garlic
1 l of water, olive oil
You will need
3 jars (new or recycled as long as they're in perfect conditions)
3 new rubber seals or metal lids
An oven tray, aluminium foil, a pot, a tea towel
A sharp knife, a chopstick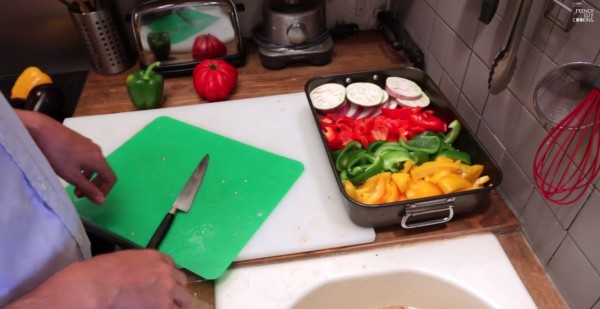 Wash the jars with hot water and soap, sterilize lids or seals by boiling them for a few minutes. Set aside and leave them to air dry. Wash thoroughly the vegetables, trim the ends, de-seed if needed, cut in 0.5 cm slices and lay them in an oven tray. Drizzle with a generous amount of olive oil, add salt and pepper. Cook in oven for 30′ at 200°C-390°F. In the meantime boil 1 liter of water in a pot, add salt, pepper, 2 bashed cloves of garlic and a bunch of dried herbs.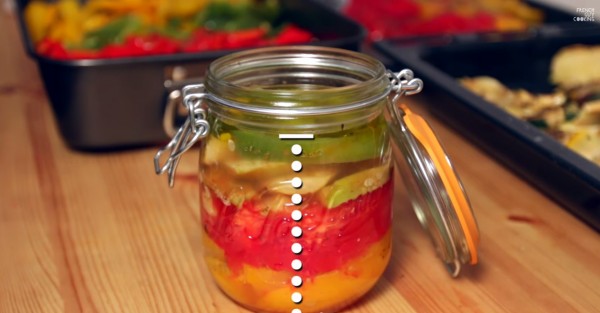 Fill the jar with stacks of colourful cooked vegetables while still hot. Pour some of the liquid you prepared beforehand. Use a sterilized chopstick to remove eventual air pockets. Add a good drizzle of olive oil on top. Don't fill the jar to the brim. Clean perfectly the edge of the jar with paper towel. Close the jar, place a tea towel at the bottom of a big pot, place on top of it your filled jars, cover them with hot water and boil them for 90′ starting when the water's boiling. Let them cool slowly and naturally inside the pot.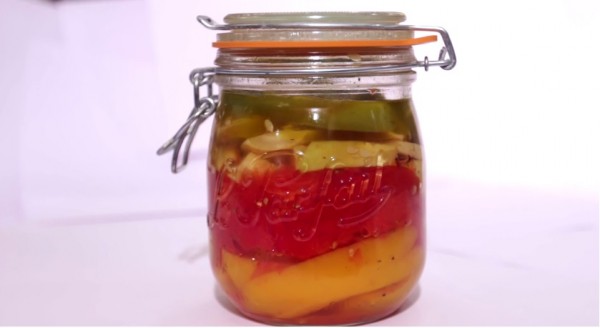 When the jars are cool to the touch unlock or unscrew the closing system: the jar ought to stay sealed by itself. If not you have to boil the jar again using a new lid or seal. Store them unlocked in a cool, dark and dry cupboard. Eat them within one year (if you find one open, or loose or you spot mould toss it). To open them pull the rubber seal towards you or pierce the metal lid. Enjoy this ratatouille by adding basil leaves, a drizzle of olive oil and a bit of salt&pepper.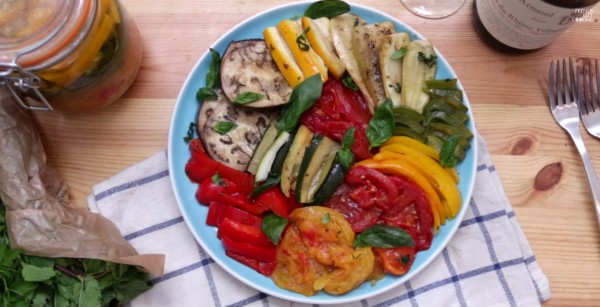 Best comments from YouTube on The French Rainbow Ratatouille Jar
Jamie Oliver "The vibrancy of those veg is phenomenal. Love it Frenchie! "
NcrFax "I love seeing an array of brightly coloured, and beautifully ripened vegetables! It gives me such feelings of excitement, knowing that it will turn into something so so tasty :)"
albedo0point39 "
+
bbullock
 The vacuum stops some bacteria, but botulism grows without air. Food with lots of salt (anchovies), acid (tomato/chutneys) or sugar (jams) don't need to be heated in pressure as botulism doesn't like salt/acid/sugar. I don't think this recipe has enough acid. Pressure cooker heating isn't about the pressure, it's about getting the temperature up to 120C where Botulism dies. The Le Parfait web link follows all the steps shown, except it does recommend pressure instead of regular boiling.!