OOPS ! You discovered my secret project !
2019 : Edit
NOW GUESS WHAT ? Since I made that page (2years ago),
I WROTE THIS COOKBOOK AND IT's AVAILABLE ON AMAZON :   Alex French Guy Cooking COOKBOOK
Now you have to leave a comment below if you like it 😉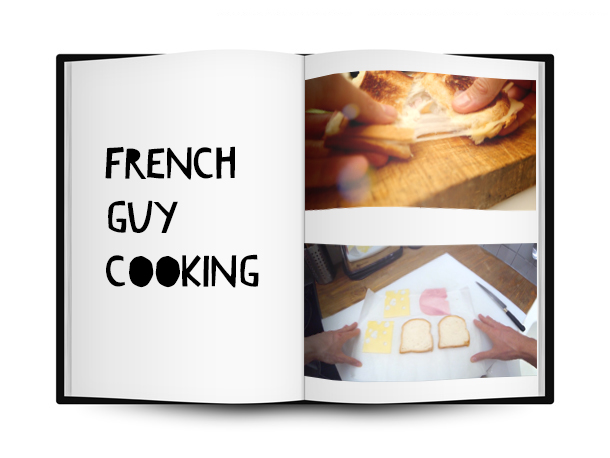 Hi lovely friends of the French Guy Cooking. The title says it all : I am working on my very first cookbook. I want it to be mouthwatering of course, yet simple and very clear. There will be detailed recipes but also food related stories of my life, So that you get a chance to know me better.
The recipes will be way more detailed than my videos. The idea here is not only inspiration but also allowing to re-make it with ease. Here is the mockup of what will be a typical recipe in the cookbook ( click on the picture below for a sneak preview )
I don't know yet, if it will be an ebook, an ipad book or a real life book. The only thing I know is that it will include a lot of detailed recipes, with stories and photos. And of course a great amount of love.
The main idea is to make French Cooking easier for you guys. Straightforward & Fun instead of Posh & Overcomplicated. I am aiming at 80% of the result for 20% of the effort. ( Lazy ? nah…. ) I just think it's the best way to get people into it.
I am also planning to include your most inspiring beautiful, interesting and useful comments. That could be really nice to have a bit of you in this book. Now, you know everything !
If you are interested, if you want it or if you like the idea just drop a comment down below…
or if you think one recipe you love is missing !