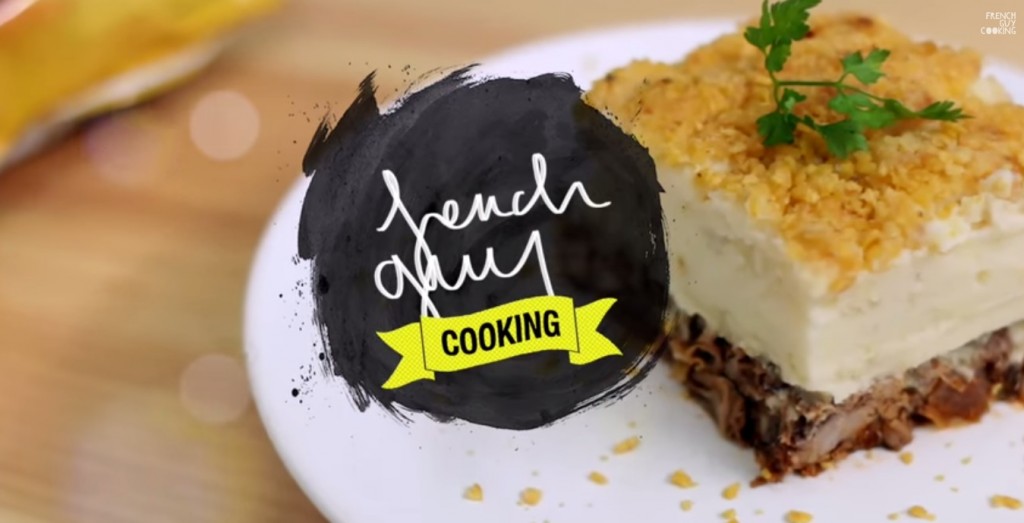 As they say in Westeros, Winter is coming and when the cold arrives it is all about comfort food so that's the perfect time to give a go to my twisted version of another beloved classic: my pulled pork hachis parmentier which is the French version of a shepherd pie. The beauty of this dish is that there is no precise recipe, it is perfect to use leftovers ( it actually works best with them) of several kind of meats. You can spice it up with bold flavors such as paprika, cayenne, nutmeg or any blend of spices you like and experiment to your liking. The classic recipe calls for bread crumbs spreaded on top but you have to try my final twist too, you won't regret it.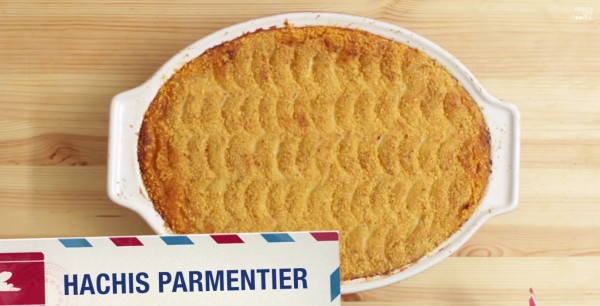 Serves 12 
List of ingredients
1 shoulder of pork a.k.a. Boston Butt (2-3 kg with bone)
4 onions (you can substitute 1 onion with 2 shallots)
2 cloves of garlic
2 tablespoons of tomato purée
1 kg floury potatoes (Russet, Bintje, Maris Piper or Sebago)
Spices
Salt&pepper, sugar
Fresh herbs (thyme, rosemary or sage)
1 bag of Doritos
2 tablespoons of milk (optional)
3 big tablespoons of butter
Olive oil
1/2 pint of stock
 You will need:
A roasting tin, tin foil, an ovenproof dish and a frying pan
A chopping knife
A wooden spoon, a spoon and a couple of forks
A blitzer (or something to smash the Doritos i.e. a rolling pin, a pan…)
A potato masher (or equivalent i.e. a dough cutter, forks…)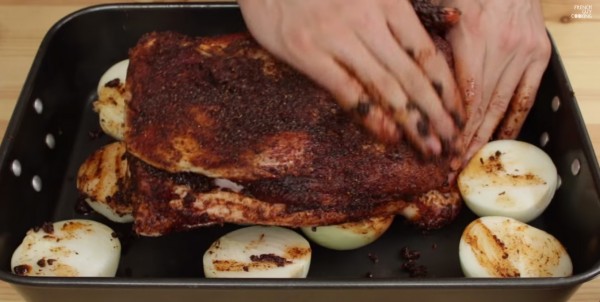 Preheat your oven at medium temperature. Start with a nice shoulder of pork, a.k.a. the Boston Butt: score the rind and rub it with your favorite blend of spices: mix 2 tbsp smoked paprika, 2 tbsp brown sugar, 1 tbsp salt, 1 tbsp chili pepper or cayenne, 1 tbsp ground cumin, 1 tbsp ground black pepper with oil to make it a paste, don't forget to add salt. Lay it in a roasting tin, preferably on a bed of halved onions, and cook it in an oven for 4-5 hours at 140°C – 280°F under tin foil. When it's cooked let it rest so that the meat relaxes and all its juices run through the meat. Tear the meat apart – or better, pull it apart – with a couple of forks.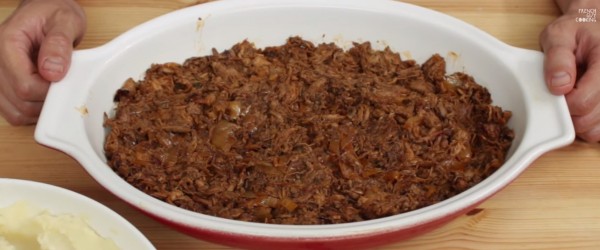 In a frying pan melt a knob of butter with some oil, toss in one thinly chopped onion (or two shallots) and two cloves of garlic and cook until golden brown. Add the shredded pork, one or two tablespoons of tomato purée, salt, pepper and a pinch of sugar. Now it's the moment to add fresh herbs if you like. Pour in half a pint of stock (it's fine to use stock cubes) and cook stirring until the liquid has evaporated and the mixture is golden brown. Place the meat at the botton of an ovenproof dish.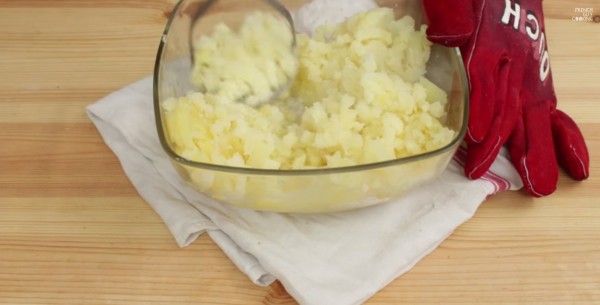 Prepare the mash either the classic way or by cutting the potatoes in half or quarters, putting them in a heathproof bowl, wrap it with safe plastic film and cook them in the microwave at full whack (900 W) for 10 minutes. Carefully remove the plastic (mind the hot steam!) and mash the potatoes with salt, pepper and a knob of butter. Add some milk or cream to soften it a bit if it's too stiff.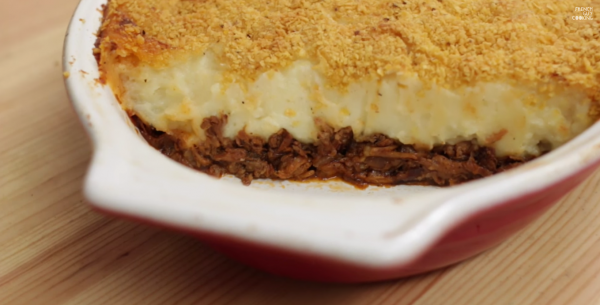 Build up the Hachis Parmentier by spreading your mash on top of the meat in your ovenproof dish. Get creative and decorate the top with the help of a spoon. Blitz a bag of Doritos and sprinkle them on top of the mash. Put in the oven at 180°C 360°F for 20-30 minutes until crisp. Serve it while it's still hot.
Best comments from YouTube on French Hachis Parmentier w/ Pulled Pork