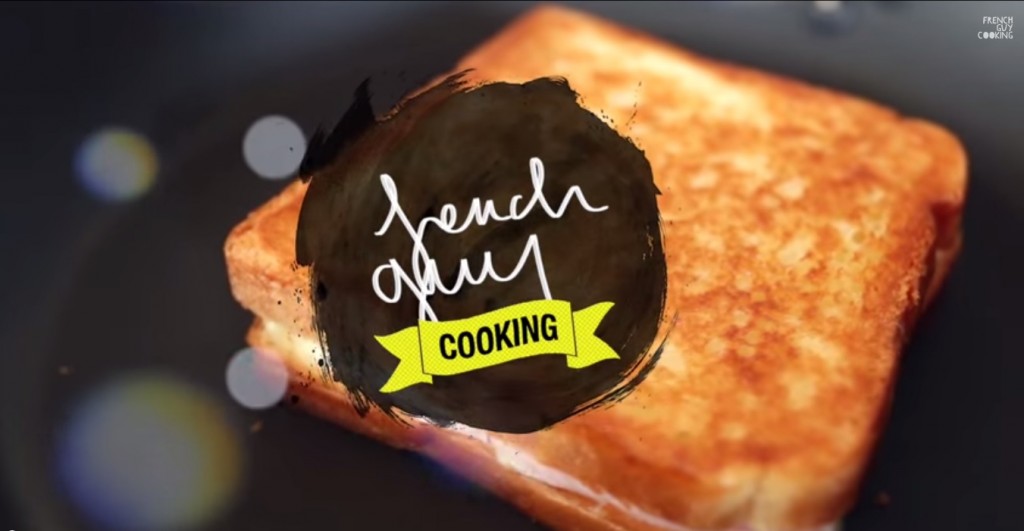 One of the most iconic snack of the French cuisine must be the Croque Monsieur: this sandwich is crispy on the outside and divinely melty in the inside and can be prepared in well under 10 minutes, which is quite unusual for a French dish. It's something you can put together when you're in hurry or when you're in need of a quick bite of comfort food. It's literary just matter of sandwiching a slice of good quality ham (higher welfare pork is strongly recommended) between two slices of ooey gooey cheese. However you could bring it to the next level with my cheaty and easy twist on a luscious white sauce a.k.a the Béchamel sauce (check out the recipe here).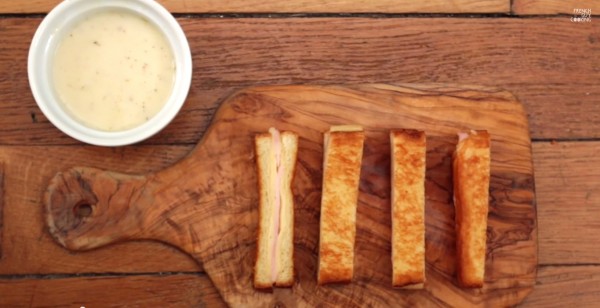 1 serving
List of ingredients
2 slices of sandwich bread
2 slices of Comté cheese (or Cheddar, mozzarella, gruyère…)
1 slice of ham
1 tablespoon of butter
Salt, pepper
You will need
A frying pan
A kitchen brush
Aluminium foil
A serving dish or wooden board
A cutting knife
Preheat a frying pan on medium heat. Melt one tablespoon of butter and brush it on one side only of both slices of bread. Place one of your slices butter-side down and place on the other side one slice of Comté cheese, then one slice of ham, than another slice of cheese. Place on top the other slice of bread, this time butter-side up.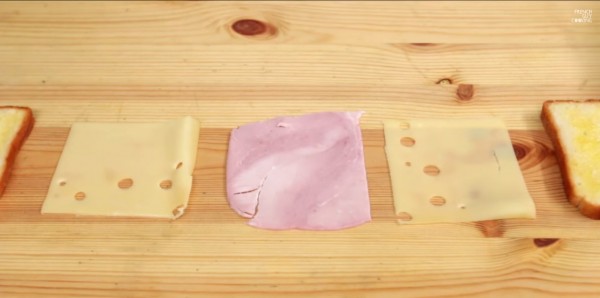 Place the sandwich in the pan and cover loosely with a sheet of aluminium foil. Don't cover with a lid otherwise the steam will make it soggy. On medium heat (if higher it will burn) fry for 2 minutes per side, checking occasionally. At the end it should be golden and crispy.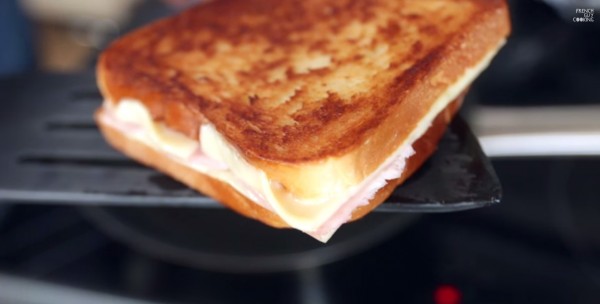 To serve it the Parisian way spread the Béchamel sauce on the top of the sandwich then broil it until golden brown but in the end you will have a soggy sandwich. To keep the crunchiness serve the Croque Monsieur cut into strips, pour the Béchamel sauce in a ramequin, dip the strips into the sauce and enjoy!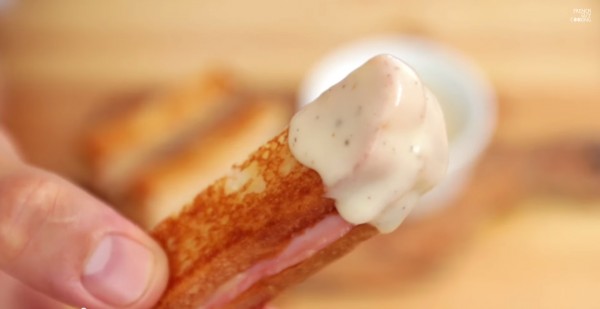 Best comments from YouTube on French Croque Monsieur Sanwich Reinvented
AnimeOnePiece123 Q: "My bechamel sauce turned mushy and hard-like instead of creamy and gooey. Did I not add enough milk?" —> A: "You cooked it too much. And yes surely not enough milk. Go by 15s sessions in the microwave."
bbullock: "Here in the US, we do a fair amount of "grilled cheese" sandwiches, which are basically croque monsieur without the ham. And instead of bechamel, we tend to eat them with tomato soup. I'm definitely adding the microwave bechamel to my "fast sauce" list, with my wife's blender Hollandaise sauce." / pelephantzoo: " In Québec, we cut a croissant in half and then put ham and cheese on each half. Then, you pop the two halves in the oven on broil to melt the cheese. SO good :)"
Michael Carroll: "When I make these for myself (without the sauce because I'm a barbaric American), I fry up the ham in the pan first before building the sandwich. It gets kinda crispy and I find the flavor to be much more palatable for my taste." /Salim Elarja: "LOVE THAT CHEAT, just made my life simpler ! I added some black truffles to the Bech…yuumy !" / ee Em: "Tell you what is nice as well, fry some garlic in the pan (skin on) then crush it when it's soft, make a paste with salt, then brush on the toast with some olive oil, fry it. I'm telling you, I fried some bacon, thyme and garlic, then made – unbeknownst to me – a croque monsieur, but I did what I just said with the garlic." / Chiharu Starfell: "Curry makes a great dipping sauce too. Seriously if you haven't tried it it's heaven on two dishes"