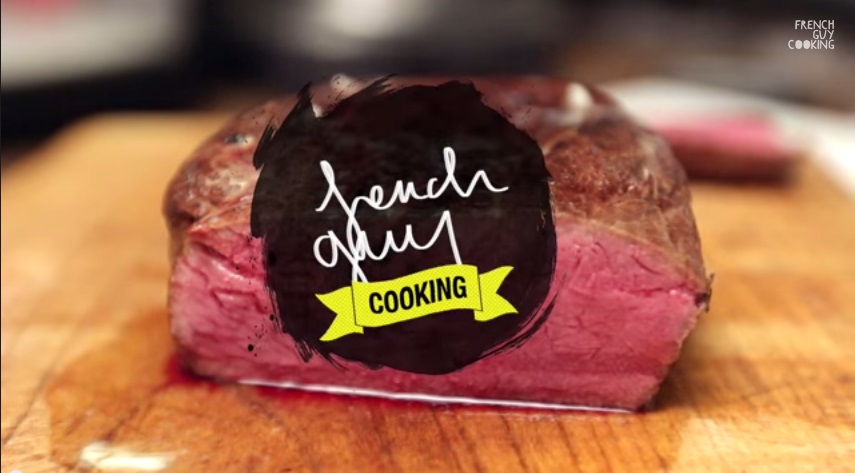 Today's entry is a little bit different, something between a recipe and a scientific experiment: it's my very personal method to cook the perfect steak and, please, believe me when I say perfect. It requires a couple of hours but it's worth the waiting. Let's start by saying that everyone has a preference for meat doneness or better, a preferred meat temperature, and here's a handy chart: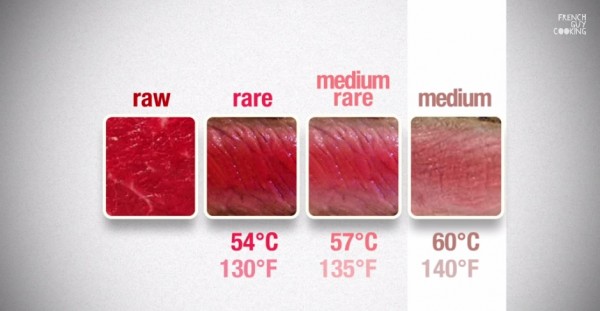 When you cook a steak in a pan, a grill or an oven, the meat's temperature raises very quickly leading to easily overcooked outer layers as opposed to rather undercooked inner layers which results in a very peculiar gradient of colours when you slice your steak.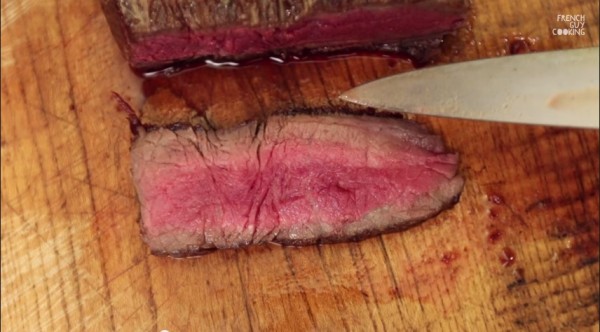 You might have noticed that you get a golden brown crust, perfectly caramelized, and a gorgeously medium rare centre, whilst the intermediate layers vary from medium, medium-well, well done… leaving little space to juiciness or crispiness. That's exactly what I want to avoid with my method: my aim is to reach a very uniform degree of doneness with a glorious golden brown crust.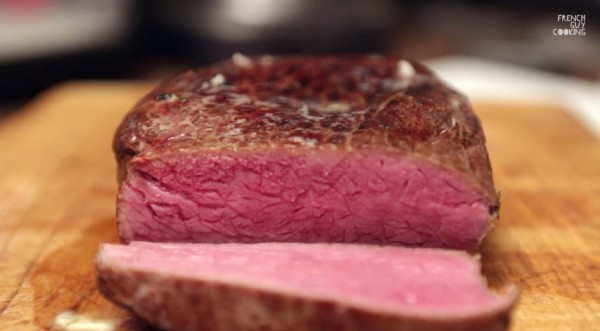 To achieve my personal level of steak perfection I'm going to use three very fancy and "cheffy" tools: a beer cooler, an Ikea thermometer and a blow torch. The first two will be used in my sous-vide technique, a cooking style that prevents overcooking through temperature stability; the latter will provide a flash of heat that will ensure the ultimate level of brown caramelization. Who needs to spend a fortune on kitchen equipment when you can re-invent what you might already have?
1 Serving
Ingredients
1 double steak
15 g of butter
1 sprig of thyme
You will need
a beer cooler
a kitchen thermometer
a blow torch
a ziplock bag
a straw
tape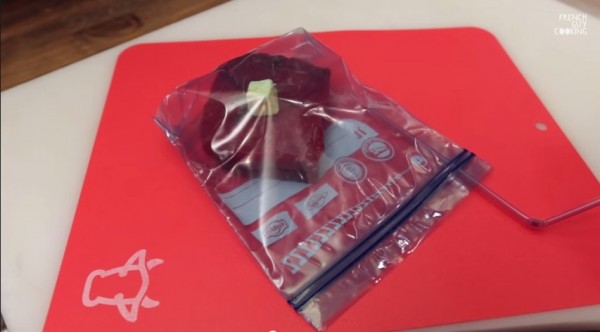 Place your meat (at room temperature) in the ziplock bag along with one teaspoon worth of butter and a sprig of thyme. Fit a straw on one side, seal the bag almost completely and then suck all the air out of the bag. Remove the straw and seal the bag.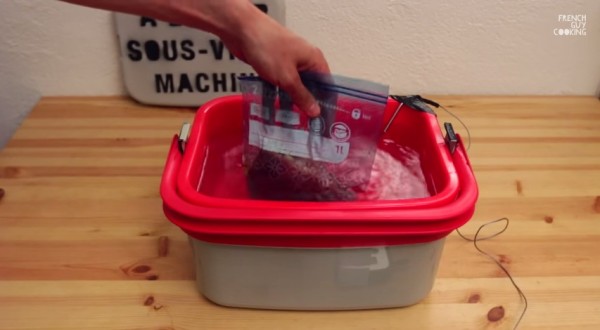 Fill the beer cooler with warm water: since the temperature is going to drop by two degrees per hour I filled mine with 60°C water, slightly higher then my desired meat doneness' temperature. Place the ziplock bag in the beer cooler along with the thermometer, securing it with a bit of tape if necessary. Close the beer cooler's lid tight. Depending on your steak's thickness, the sous-vide cooking time will be as following: 5 cm or 2.5 inches thick = 2 hours; 2.5 cm or 1 inch thick = 1 hour. From time to time check your thermometer and make sure that the temperature is stable by adding a bit more hot water if needed.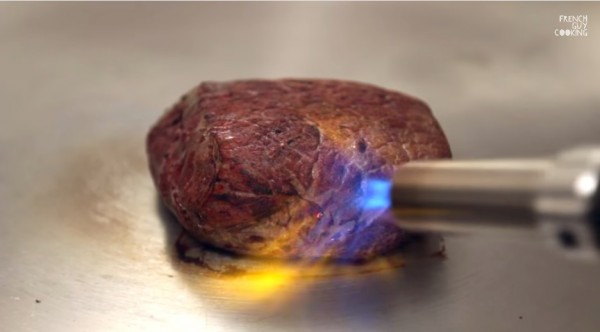 After two hours remove the meat from the ziplock bag and place it on a heat-proof and safe surface. Light up your blow torch and quickly scorch the meat on all sides to get caramelization. Add a bit of butter and season to taste. Here you have it: the most perfect slice of steak you'll ever encounter, evenly cooked all the way to centre without gradient in colouring but with maximum flavour both in the crust and in the middle.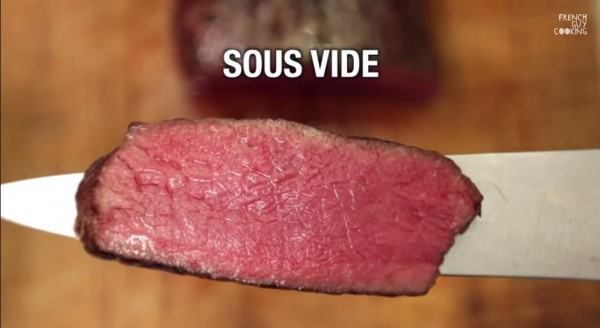 Best comments from You Tube A Perfectly Cooked Steak ! Sous-vide Hack with a Beer Cooler !
Themis02: "Superbe steack! Pas besoin de surveillance, et pas de vaisselle! Merci pour l'astuce!"
Brothers Green Eats: "one of your best vids yet! such creative editing and sound design frenchie! Excited to see whats next.. "
BarbaGourmet: "that was the most amazing steak i ever saw congratulations and thanks for the tip of the ice cooler sous-vide."