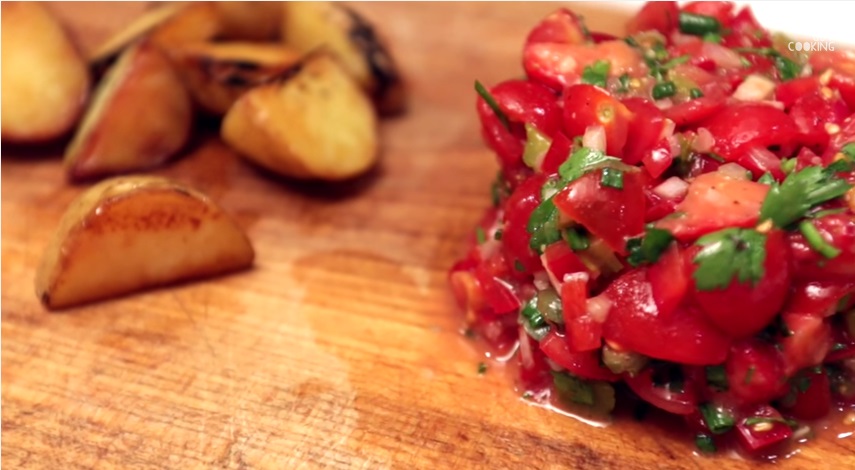 Do you like the idea of a proper French Steak Tartare but you're not that into raw meat or meat in general? Don't worry, I've got you covered with my vegetarian twist on this beloved classic that involves three gorgeous shades of red groceries: red bell peppers, cherry tomatoes and strawberries. These ingredients together oddly work magic and don't be put off by the pairing with mustard, capers or shallots: this recipe won't make you miss beef (sort of).
1 serving
Ingredients
1 red bell pepper
1/2 cup strawberries
1 cup cherry tomatoes
3 small gerkins
1 tbsp each of capers, parsley and fresh chives
1 shallot
1 anchovie
1 organic egg yolk
1 tbsp each of mustard and ketchup
a few dashes of Worchestershire sauce
salt, pepper, chili sauce
Grapeseed oil
You will need
1 sharp knife
1 bowl
tablespoons
tin foil or a large cookie cutter
kitchen paper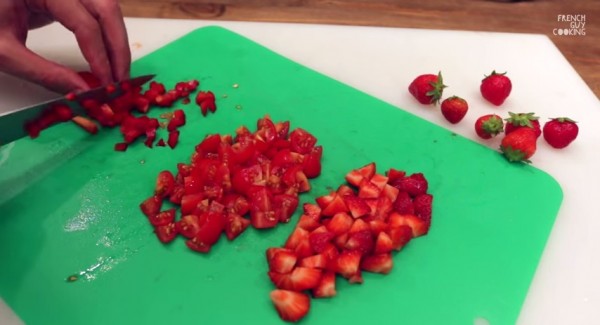 Chop the pepper, the tomatoes and the strawberries in a small dice. Place it on kitchen paper and sprinkle with sea salt to draw out the excess moisture. Let it rest for about 10 minutes.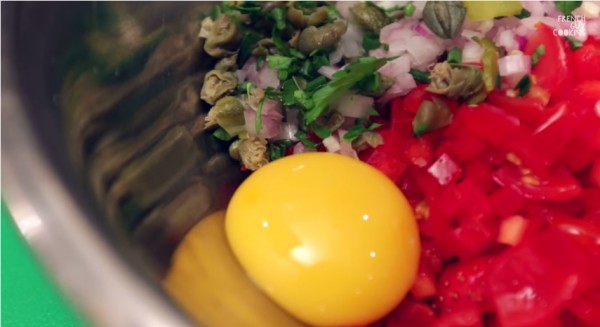 Chop three small pickled cucumbers and a shallot: try to replicate the same size of the previous dice. Chop as well a tablespoon of capers and a tablespoon worth each of fresh chives and parsley. Add one very thinly siced anchovie for a boost of flavours (or omit it if you want a 100% vegetarian recipe). Add the egg yolk, the mustard, the ketchup, the Worchestershire sauce and season with salt, pepper and – if you like – chili sauce. Mix everything untill well combined.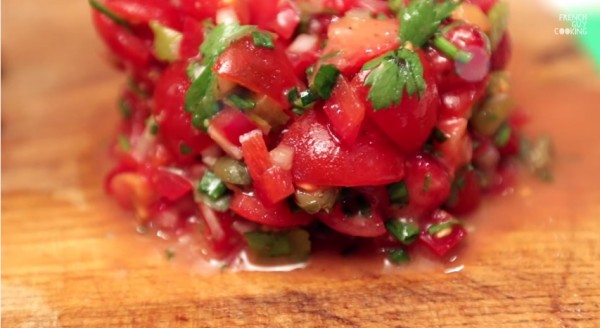 To serve the dish you might need a large cookie cutter or, if you don't have one, you can make your own ring mould with tin foil. Place the mixture in the ring and gently pat it down. Serve with fresh chives and rocket on top with a side of roasted or french potatoes.
Best comments from You Tube on French Steak Tartare : Classic version + Vegetarian twist !
Ze Rubenator: "Don't like raw meat? Just throw it in a pan for a couple of minutes and you got yourself one hell of a burger."
Harry Upton: "Strawberry goes really well with beef in my opinion fresh strawberries are great with steak"
G00R00: "I like my strawberries medium rare, can't eat them raw like that"