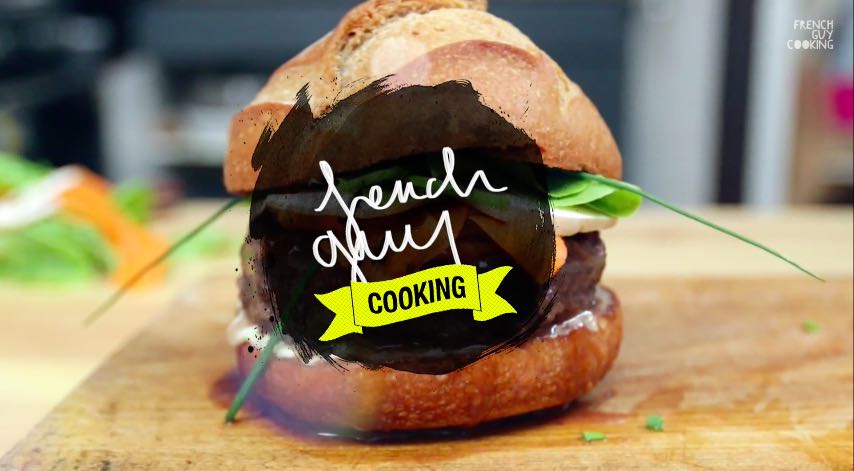 As I might have mentioned I WON AN AWARD last November! The Fondation Nestlé required an original video recipe on how to cook a French staple and there are few things as iconic as the Beuf Bourguignon. But I simply couldn't abide tradition, I had to twist it big time so I turned it into… a burger! You heard it right: this is my Beef Bourguignon Burger: super tender, cheap meat, wine sauce, pickled and soft veggies, crispy buns, bacon… what's not to love?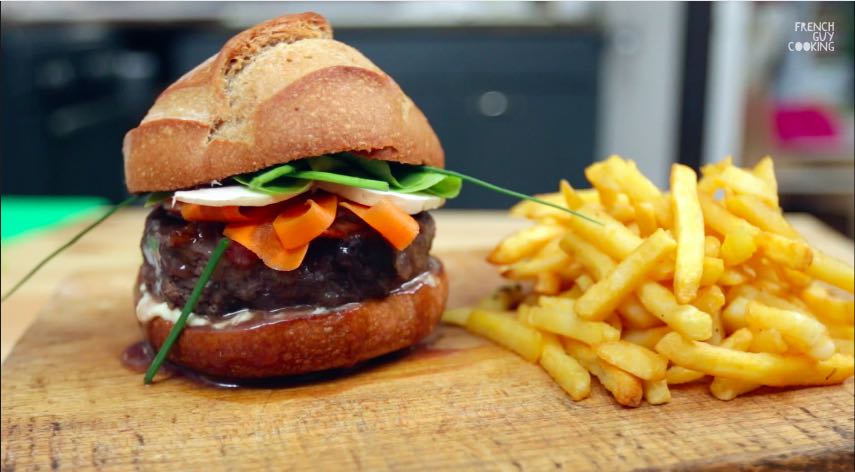 1 Serving
Ingredients
Beef cheek (higher welfare meat is always best)
A bottle of good red wine (Pinot from Burgundy otherwise a Shiraz or a Malbec)
1 ½ onion, 2 carrot, 2 clove of garlic, 1 clove, 1 handful of pepper corns, dried herbs, a pinch of 4 spices
Crispy buns (baguette style)
Melty, sharp cheese (Cheddar)
Bacon, chives, mushrooms, salad
Sugar, salt, pepper, vinegar, olive oil,1 tablespoon flour
 You will need
1 bowl
1 heavy bottom pan or a pressure cooker
1-2 frying pan
knives, forks, spoons, peeler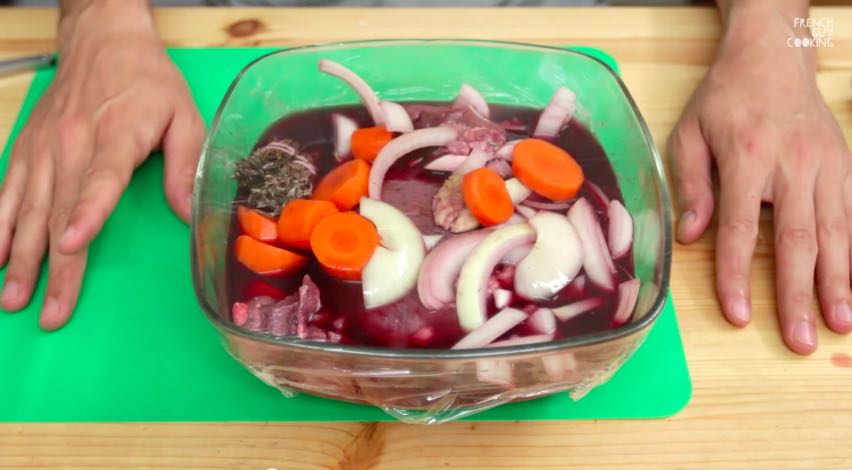 Marinate the meat by placing it in a bowl and covering it with the red wine. Add half an onion, a carrot, a handful of peppercorns, a bunch of dried herbs, one clove, a crushed clove of garlic and the spices. (If you want to keep it alcohol free, use beef stock mixed with grape juice and a tablespoon of balsamic vinegar). Cover and let it rest preferably for a day in the fridge (2 hours will work too).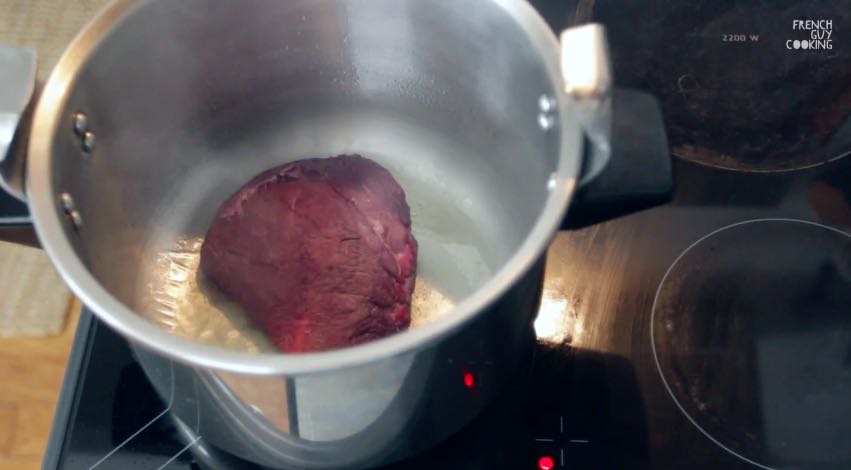 Drain the meat but keep the wine marinade. Pat it dry thoroughly then season generously with salt and pepper. Place a heavy bottom pan on the heat, add oil and then the meat. Sear it well on every side. Add one tablespoon of flour and let it cook for a few minutes. Pour in the marinade and scrape the bottom of the pan to catch all the caramelized bits. Cover with a lid and let it simmer for 3-4 hours. If you're using a pressure cooker you will only need 1,5 hours. Your meat will be so tender that it will fall apart on its own, it will be easy to shape it into patties. Reduce the wine sauce until it thickens.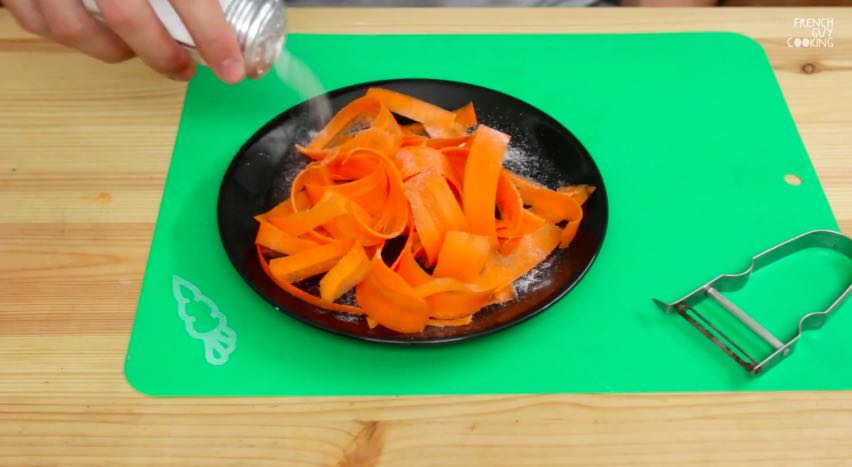 While the meat slowly cooks, prepare the pickled vegetables: using a peeler slice the carrots, sprinkle with sugar, salt and a drizzle of white wine vinegar. Massage them and set aside.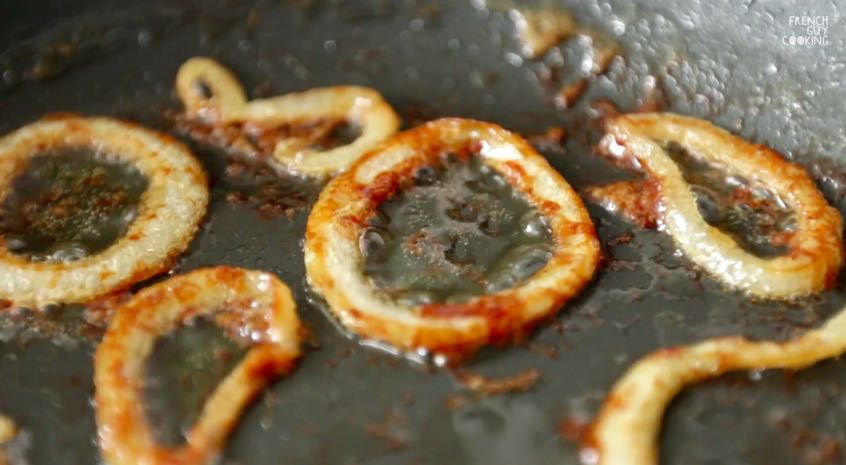 Cut the onions into rings. In a pan melt a knob of butter, toss in the rings along with a pinch of sugar and salt. Add water and cover loosely with a lid. Don't close it completely, you want to reduce down the liquid. Prepare the rest of your burger garnish: fry some bacon, mince chives, rinse a bunch of salad leave, lightly toast your buns, melt some cheese over the bottom slice of bread, slice a couple of mushrooms.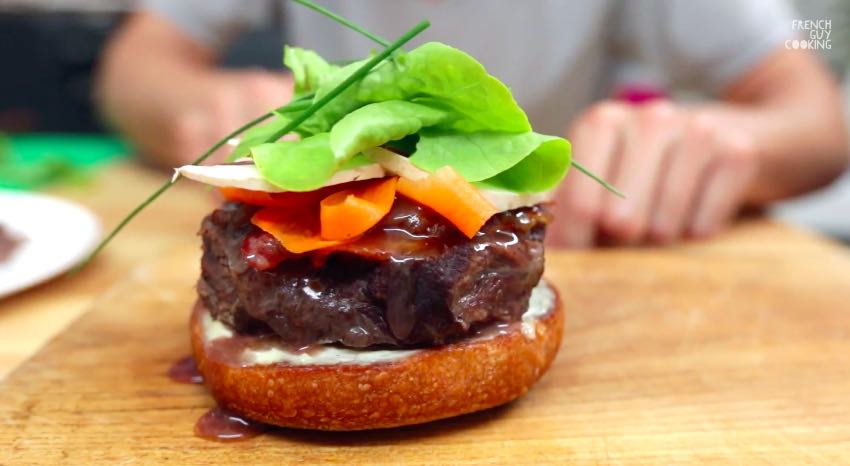 Build your burger: on the cheesy bottom slice lay your patty, the bacon bits, the caramelized onions, a spoonful of reduced wine sauce, drained pickled carrots, mushroom slices, salad leaves and chives. Rub a clove of garlic on the upper bun slice, close, press gently and serve. It's massive but the meat is so tender that it will melt in your mouth and the combination of the rich wine sauce, the caramelized onions and the sharp and crunchy carrots is to die for! You could serve it with properly made french fries but the burger it's so rich that a nice salad will do just fine.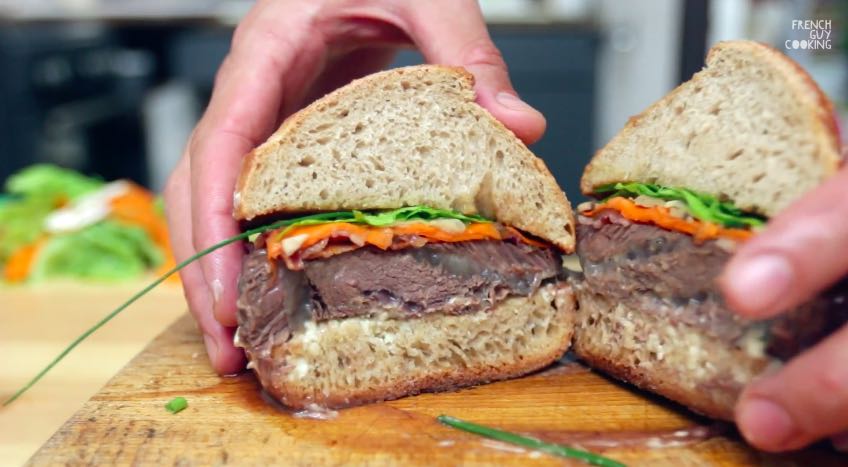 Best comments from You Tube on Ultimate French Burger : Beef Bourguignon !
Sidhant Khatri: My favourite cheese on burgers is Brie or Camembert and I usually put a Roquefort mayonnaise on the burger as a sauce. 
Gabriele Pumo: This is more like a pulled not pulled beef burger! Fantastic though, that beef cheek is 10 times more succulent and flavorsome than the thin overcooked patty you get in most burgers!
Matthew Brandon: In a hamburger, the meat is fried or grilled. You made a delicious sandwich, but not a burger. This is the kind of thing which gives the French the reputation for not being able to make a burger.