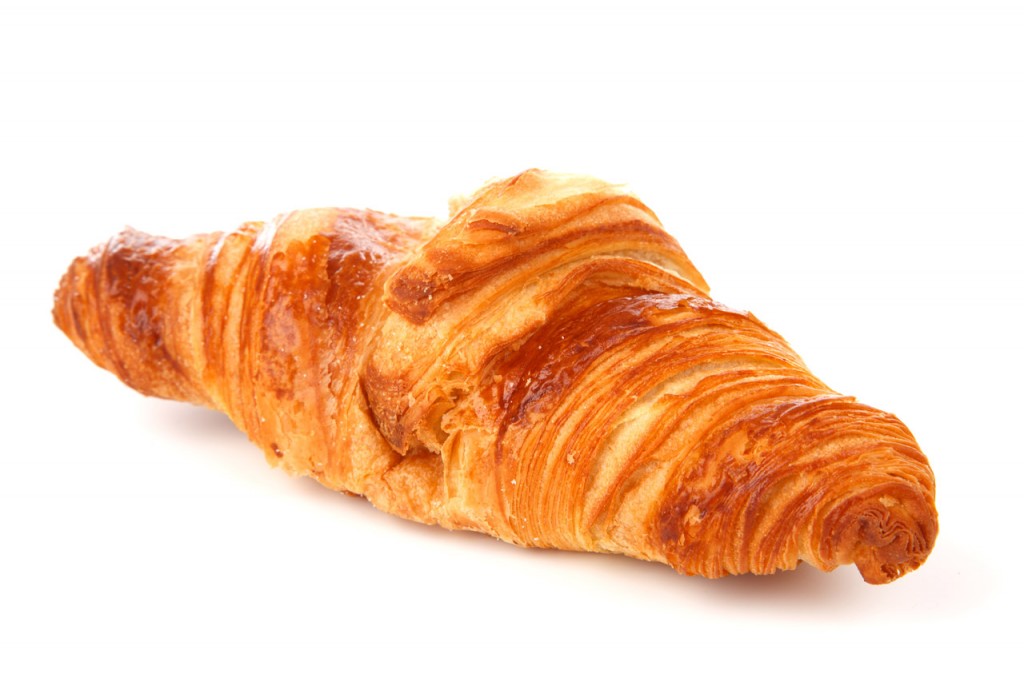 Photo by Petr Kratochvil
If you are inclined to romanticism you could acknowledge the aroma of caramelized butter as the distinctive fragrance of Paris. Butter really is one of the key ingredients of the French cuisine, and nothing is more quintessentially French than croissants pûr beurre. This delicious pastry is a breakfast staple and should be bought in a boulangerie, asked à emporter – to take away – and smuggled everywhere you need to go. You should really avoid those you find in cafès: they are often a bit stale, too papery and definitely not as fragrant as they should be*. Plus, there must be few life pleasures comparable to the one you get by plunging your nose in the little paper bags in which bakers slip your croissants.
Butter and flour can do wonderful things together and the pâte feuilletée – of which croissants are made – is a real culinary miracle made of patience and love. This light, flaky, leavened puff pastry is made by layering a stick of laminated butter on a simple sheet of dough made of flour and water. To make it properly you have to fold the dough several time respecting a very specific method: each folding will make the dough rise through the evaporation of the fat into steam so that the inside will be gorgeously puffed up whilst the outside will be crispy and golden.
When you take a bite of a genuine croissant pûr beurre you make a mess: it crumbles in your hands and when you chew it you can feel the distinctive sound of crispy outer layers melting with the soft, buttery inner layers in an inimitable, perfect mouthful. It's the mess that enables you to tell a croissant made with butter from one made with bad quality fat (for example, margarine EW!). The perfect croissant must also have a very subtle salty taste given by the addition of a pinch of fleur de sel to the dough. This almost indiscernible – but definitely there – flavour makes the croissant perfect to either be eaten alone or cut in half and topped with a thin veil of jam or to welcome savoury fillings, if you want to take your sandwich to a whole other level.
Be wary of soft and heavy croissants. Genuine ones weigh almost nothing, they don't spring at the touch but crumble at the slightest pressure you apply on the crust, they smell of caramelized butter and are not sweet. The final proof is in the "ears": the croissant's extremities are the best part and must be crispy and crunchy, perfectly golden brown.
Next time you are in Paris why don't you go on a quest for the best croissant? It's a tasty game: you wake up rather early and you start roaming the city stopping at every bakery whose aroma whets your appetite and you eat your warm croissant while you get lost in the arrondissement. Trust your nose to find the next one! I challenge you to stop.
Here you are my favourite spots in Paris:
Les pains d'Alexis, 

18 Rue Flatters, 75005 Paris

Blé sucré, square Trousseau, 75011 Paris
Du pain et des idées, 34 Rue Yves Toudic, 75010 Paris
Le grenier à pain des abesses, 38 Rue des Abbesses, 75018
Fun fact
The birth of modern croissants is believed to be dated around 1838-1839 when an Austrian officer moved to Paris where he opened a viennoiserie, an Austrian-inspired patisserie. There he re-elaborated an existing sweet staple of his old Empire, the  kipferl. This pastry was rumoured to be a denigration of the Ottoman Empire who lost the seige of Wien back in the 17th century. That's the reason why croissants are boycotted by several fundamentalists.
Cheat recipe
If you crave a croissant but you don't live in France or you're desperate to impress a certain someone you could try my outrageously cheaty version of a French Croissant, check this out!
*How to sneak a boulangerie croissant in a cafè like a Parisian pro