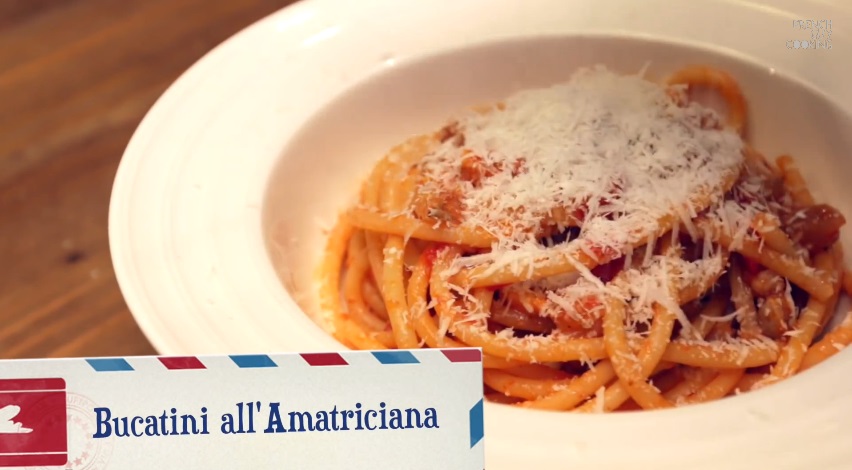 When your mother comes back from her Roman holidays bearing gifts such as Guanciale and Percorino cheese you have but one choice: make the most delicious and simple pasta dish ever, the amazing Bucatini all'Amatriciana. This recipe requires just a few ingredients, that's why it's important to use authentic products: Guanciale is the heavily spicy, cured pork's cheek, the Pecorino is a sharp and salty sheep cheese. I'm aware that it's not very easy to get them outside Italy so you can substitute them with their closest relatives: bacon or lardons and parmesan cheese. Concerning the pasta, Italians use Bucatini which are thick spaghetti with a hole running through the center (bucato in Italian means pierced) that perfectly collect the sauce; if you can't find them it's ok to use regular spaghetti. This recipe is perfect as it is, that's why my twist on it will be very simple.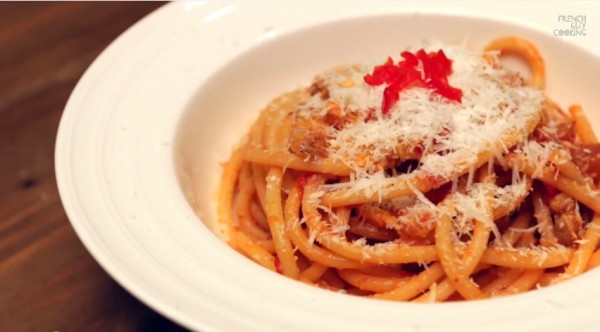 2-3 Servings
Ingredients
1 chilli pepper thinly sliced
1 tin of tomatoes, roughly chopped
1 big handful of guanciale, cut into strips
2 big handfuls of pecorino cheese, grated
300 g of bucatini
Cooking salt
You will need
1 frying pan, 1 pot, 1 grater
1 knife, 1 wooden spoon, tongs or a colander (to drain the pasta)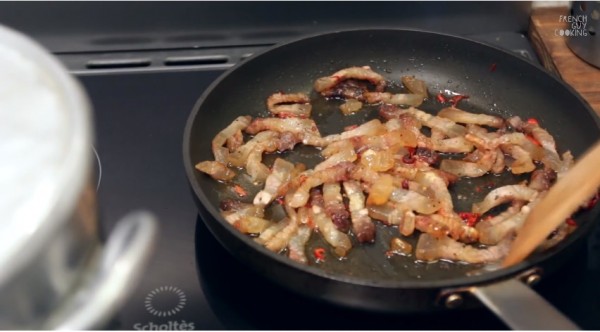 In a hot pan fry together the guanciale with half a chilli pepper, finely chopped, for 5-10 minutes until the cured pork will be both golden and transparent. It will render quite a bit of fat: scoop half of it out (and save it for another recipe, an omelette for example) but leave the rest in the pan.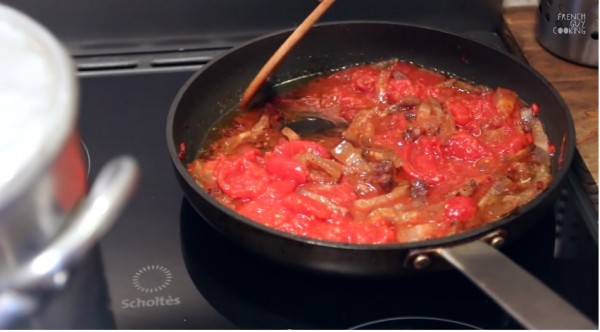 With a pair of scissor roughly cut the tomatoes inside their tin, then pour them in the pan. Let it simmer for 10 minutes but don't season the sauce: the guanciale is already quite salty and peppery.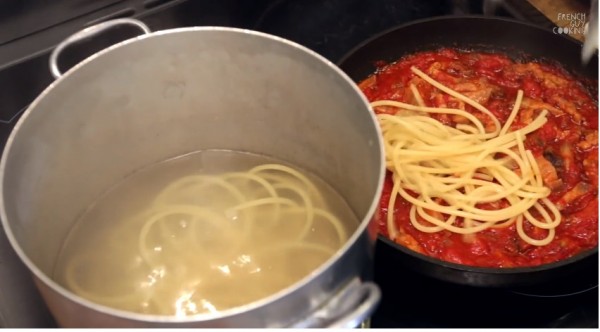 Salt your boiling pasta water and cook the bucatini one minute less then their cooking time indicated on the box. When al dente drain them roughly and drop them in the pan along with a very generous handful of grated pecorino cheese and toss everything together until the pasta is well coated. Place the Amatriciana in bowls and serve immediately with another light sprinkle of pecorino and chilli peppers.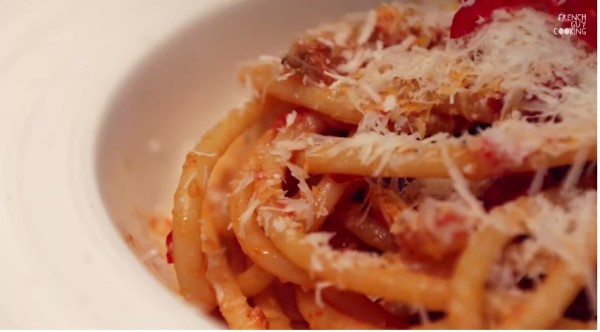 Best comments from YouTube on Italian Bucatini Amatriciana
Fotografando à Mesa: "This looks super tasty! Is that possible to make a risotto with this italian sauce? I make risotto in an alternative gastronomy market here in Brazil and loved this! <3″
Shawn Lazarus: ""Bucatini" and "Amatriciana" and "Guanciale" are such fun words to say… also when I initially started making pasta dishes I used to put loads of ingredients in but pasta is so much better when it's done with just a handful of ingredients and I love this recipe because of that… going to try this one out!"