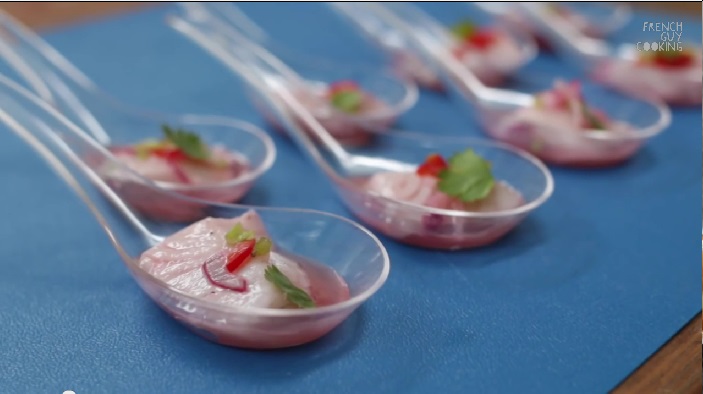 It's party season! This means tons of party food which often translates into those oldie but goldie appetizers that are so good and yet so… boring. That's why I'm sharing with you three easy, cheap and unexpected canapés recipes from as many different and wonderful corners of the world: Asia, Middle-East and South America.  I've been really inspired by the food and culture of these regions, what came out of my experiments are Miso Glazed Eggplants, inspired by a traditional Japanese dish called Nasu Denkaku, oven baked Falafel and my understanding of a Peruvian Ceviche, a marinated yet raw fish. The beauty of these recipes is that they are very easy to make in batches, they are pretty budget-friendly and yield an impressive amount of servings. Here you have my Peruvian Ceviche, check here and here for the other two recipes. Happy Holidays!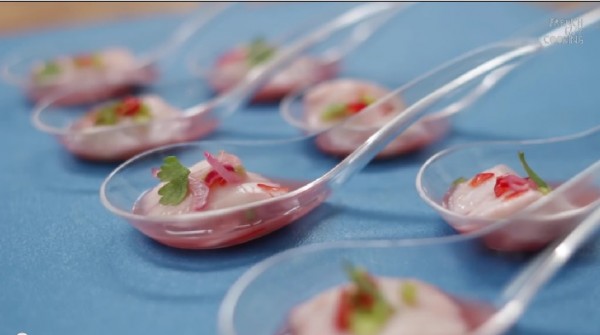 30-40 single servings
Ingredients
2 sea bass fillets (or sole, snapper… as long as they come from sustainable sources)
5 limes, juiced
1/2 red onion, thinly sliced
1/2 tsp salt, pepper
1 chli, finely chopped
1 bunch of coriander
You will need
a knife
a bowl
serving spoons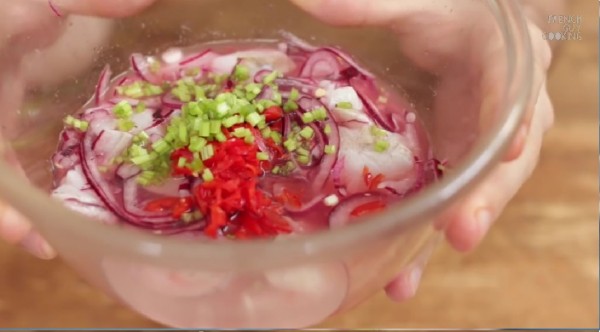 Prepare the marinade combining the lime juice with the onion, sliced as thinly as possible, and the seasonings. To amp up the flavour add chili and coriander stalks, both sliced as thinly as possible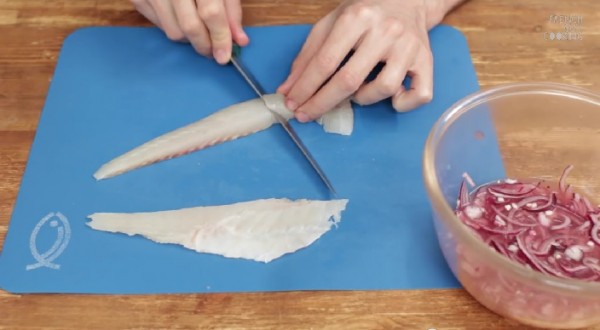 Cut the de-boned fillets into bite size chunks, salt them generously and toss them in the marinade. Leave them for at least 10-30 minutes.
Serve them as quickly as possible, adding a few drops of the marinade (a.k.a. leche de tigre), a small coriander leaf and a few chili bits as a garnish. These bites have the perfect consistency: cooked by the acidic marinade on the outside yet raw in the centre… delicious!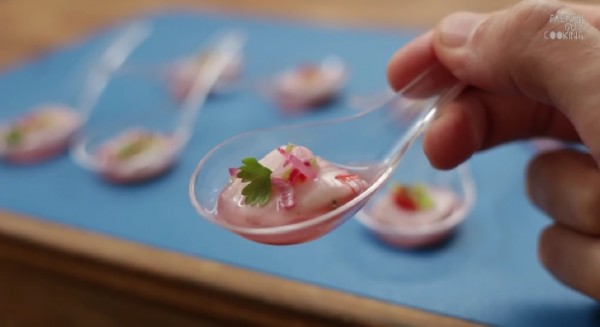 Best comments from You Tube on  3 Holiday Appetizers : Ceviche, Eggplants & Falafel !
 Eyrion Royce: "Ceviche is the best…. good I miss peruvian food. Ceviche tre o cinco sabores… is even better." —> French Guy Cooking: "Hum hum. Tre o cinco sabores ? I heard 5 sabores : fish, salt, pepper, onions and lime. Tell me more !"
Majo Salas Calderón: "In my country we put a little sugar or sweetener at the end to ceviche to balance the flavors. Keep speaking spanish, so sexy Alex! please make me some Bouillabaisse a la Marseillaise s'il vous plait!"
jacobvig0: "In Denmark we have to freeze all fish in minus 20C 24 hrs or something like 5 days in – 18 C"