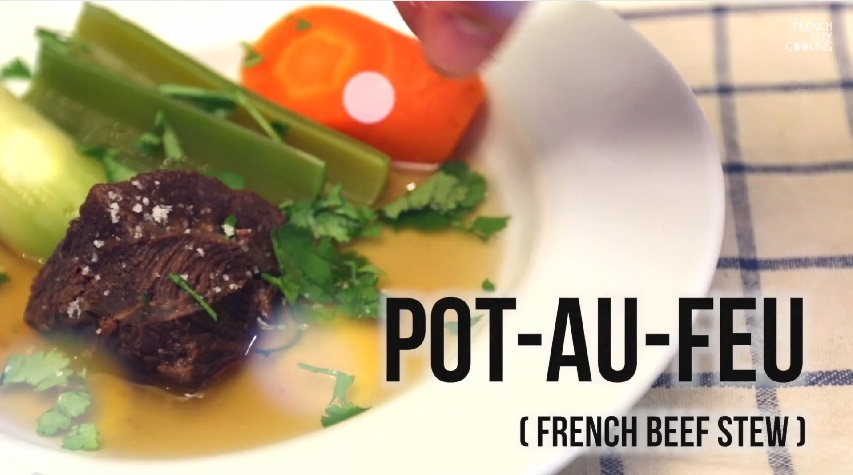 If sharing is caring there is absolutely nothing better to share than a family meal, especially if it's cheap, easy to make and deliciously filling. A French Pot au Feu fits the bill with flying colours: this simple beef stew will give you a savoury broth, plenty of super-tender meat and healthy veggies. The beauty of this recipe is that requires minimum effort and feeds many with a small budget: in fact it's best to use inexpensive cuts of beef, tough muscles will do the trick because the long cooking time will make the meat fall off the bone without the need of a knife. Don't forget the wine!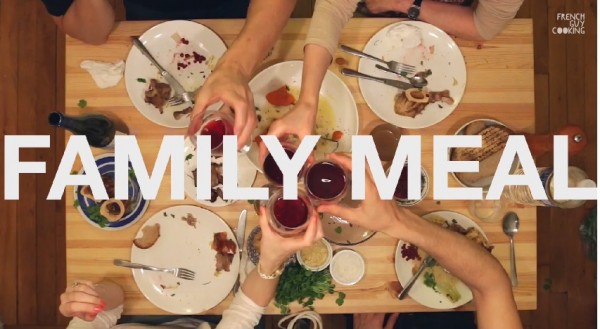 4 servings
Ingredients
1 kg of low cost cuts of beef: cheek, oxtail, shank, chuck…
4 pieces of marrowbones (optional)
water, olive oil, salt, pepper, 5-6 cloves, peppercorns, a bunch of dried herbs (thyme and old bay), parsley
1 1/2 onions, 2 carrots, 2 celery stalks, 2 leeks, 2 turnips, 2 potatoes
mustard, gherkins, toasted bread
1 egg white
You will need
one big pot and a skimmer
a strainer and a cheese cloth (or a perfectly clean t-shirt)
serving dishes
Drizzle your meat with a little olive oil and season it with plenty salt and pepper. Preheat a pot on medium heat and brown your meat on all sides to seal it. Cover with water and scrape the bottom of the pot to catch all the caramelized bits of meat. Add a bunch of dried herbs, a scant tablespoon of peppercorns and the onions pricked with cloves. Let it simmer on low heat at least 2 hours but 4 hours would be better. From time to time skim off the excess fat that surfaces.
Half an hour before turning off the heat add your clean and peeled vegetables. Leave the skin on your potatoes if you want a less cloudy broth. Now is the moment to add your marrowbones too. Cook for no more than 30 minutes.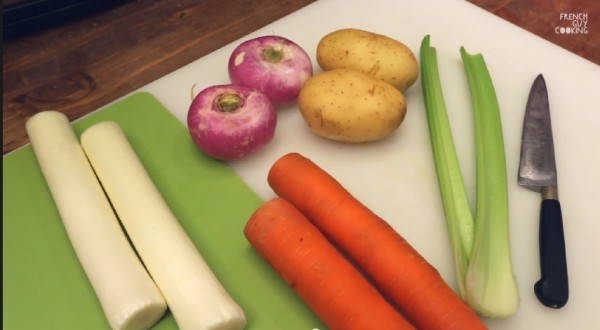 Place meat and vegetables in a separate bowl and discard the herbs. A useful trick to get a perfectly clear broth involves an egg white. Throw it in the broth and let it curdle, it will act as a filter catching fat and dark bits of stock. Filter pouring the broth over a strainer where you will have placed a cheese cloth or a perfectly clean t-shirt (an old one you were about to throw away). Adjust salt as needed.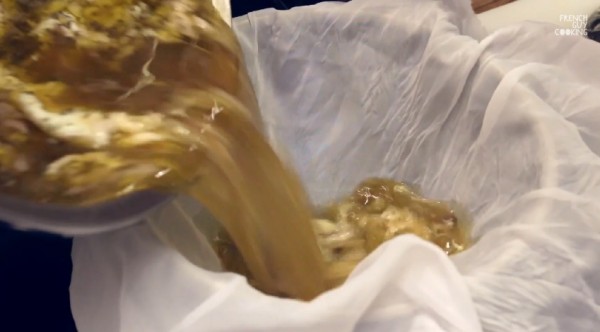 Serve on separates dishes with a sprinkle of parsley over the meat. Mustard and gherkins are perfect complements to this composite stew. Don't forget to toast your bread to taste the marrowbone at its best!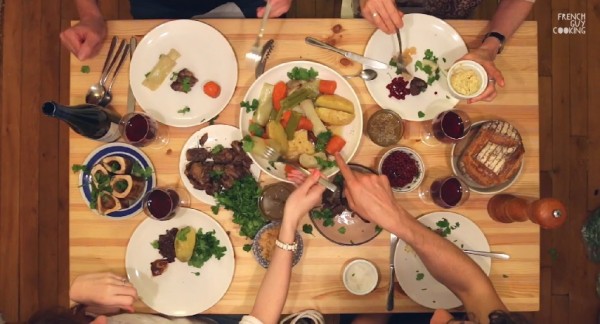 Best comments from You Tube on Classic French Pot-Au-Feu (Beef Stew)
truthtrumpsdumbness "Magical – clear stock! …… egg whites!   marrow bones!    I love that most of your presentations are of dishes,  combinations and methods  that I have never tried, despite years of trying to cook.  Thank you Chef! :)) "
polychronio "I want to try Pot Au Feu….Pot Au Feu is where vietnamese noodle pho derived from…."